IFJU FINS FORMULA US EASTERN CHAMPIONSHIP 2016
Miami always delivers and this year too, The hard core Miami Windsurf group showed up and we had some great racing…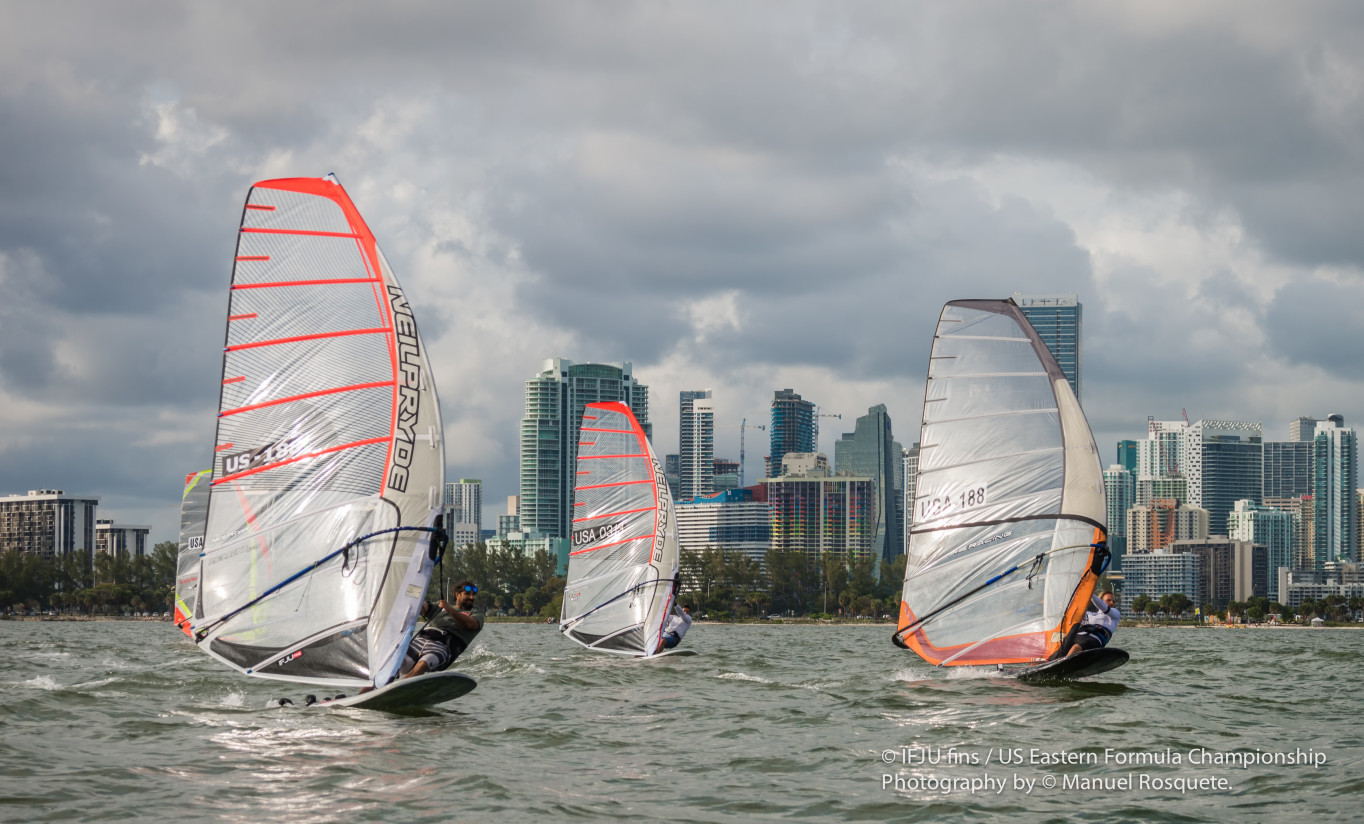 Saturday it was light, but the wind picked up later In the afternoon and there was enough for some solid sailing with the big sails. I was on a 11.8, 10 year old sail, borrowed from Alex and the sail still rocks.  I won both Races but was pushed hard in both races by Mr. Morales himself on his new designed TILLO INTERNATIONAL  Formula boards. He was indeed going well and I overtook him a little later in the races. Also Justin Ahearn showed good form and was always there to take over should there be a chance. We completed 2 races that day as the wind was getting a little to light towards the end…
Sunday was promising and forecast was 20-25 knots. We all know that's a lot for Miami but we actually all where on 9.5 fully lit! It was a great day. Races where short, but intense and fun and nice to be on the water again.
Many of the local crew showed great form and they are for sure improving each year which is great to see. Alex was up there and Justin Ahearn was always there pushing hard. Glad to see.
I traveled to Miami with one Fin, and borrowed all the gear. Different brands of this and that and never has Windsurfing been easier. I wish every time would be like that. Thanks Alex and Jose for lending me the stuff.
Ill be back next time
Results :
| | | | | | | | | | | | |
| --- | --- | --- | --- | --- | --- | --- | --- | --- | --- | --- | --- |
| Rank | Class | SailNo | HelmName | R1 | R2 | R3 | R4 | R5 | R6 | Total | Nett |
| 1st | Formula | DEN 111 | Jesper Vesterstrom | 1.0 | 1.0 | (14.0 DSQ) | 1.0 | 1.0 | 1.0 | 19.0 | 5.0 |
| 2nd | Formula | USA 166 | Justin Ahearn | 3.0 | 2.0 | 1.0 | 2.0 | 2.0 | (4.0) | 14.0 | 10.0 |
| 3rd | Formula | USA 188 | Alex Morales | 2.0 | 3.0 | 2.0 | (14.0 DNC) | 3.0 | 2.0 | 26.0 | 12.0 |
| 4th | Formula | USA 0313 | Gonzalo Crivello | (14.0 DNF) | 6.0 | 6.0 | 3.0 | 5.0 | 3.0 | 37.0 | 23.0 |
| 5th | Formula | USA 38 | Ahmed Hassouna | (14.0 DNF) | 5.0 | 3.0 | 4.0 | 6.0 | 6.0 | 38.0 | 24.0 |
| 6th | Formula | USA 124 | Tim Knapp | 5.0 | (14.0 DNS) | 14.0 DNF | 5.0 | 4.0 | 7.0 | 49.0 | 35.0 |
| 7th | Formula | USA 107 | Antonio Belli | (14.0 DNF) | 14.0 DNF | 4.0 | 6.5 | 7.0 | 5.0 | 50.5 | 36.5 |
| 8th | Formula | URU 0 | Guille Guerra | (8.0) | 8.0 | 7.0 | 8.0 | 8.0 | 8.0 | 47.0 | 39.0 |
| 9th | Formula | USA 124 | Luis Barros | 9.0 | (14.0 DNS) | 5.0 | 6.5 | 14.0 DNF | 14.0 DNC | 62.5 | 48.5 |
| 10th | Formula | USA 285 | John Cerchio | 4.0 | 4.0 | (14.0 DNC) | 14.0 DNC | 14.0 DNC | 14.0 DNC | 64.0 | 50.0 |
| 11th | Formula | | Sergio Kapul | 6.0 | 7.0 | (14.0 DNC) | 14.0 DNC | 14.0 DNC | 9.0 | 64.0 | 50.0 |
| 12th | Formula | | Don Wagner | 7.0 | (14.0 DNF) | 14.0 DNC | 14.0 DNC | 14.0 DNC | 14.0 DNC | 77.0 | 63.0 |
| 13th | Formula | | Beverly Gomez | (14.0 DNF) | 14.0 DNF | 14.0 DNC | 14.0 DNC | 14.0 DNC | 14.0 DNC | 84.0 | 70.0 |
All the best
Click HERE for more pictures :